COLORADO SPRINGS, CO – Forty-five American Rifle, Pistol and Shotgun athletes are making their way to Mexico to compete in the 12th Championship of the Americas (CAT) November 2 – 10 at the Club Cinegetico Jalisciense in Guadalajara. Competition starts Saturday and concludes on November 10 with medals and Olympic and Pan American Games quotas on the line for shooting athletes from North and South America.
At the previous CAT in 2014 in Guadalajara, USA Shooting earned three Olympic quotas from the gold-medal performances of Will Brown (Twin Falls, Idaho) in Men's Air Pistol, Dempster Christenson (Sioux Falls, South Dakota) in Men's Air Rifle and two-time Olympic gold medalist Vincent Hancock (Eatonton, Georgia) in Men's Skeet. The United States led the medal count in 2014 with 21 individual medals and 14 team medals.
Christenson is the only athlete of the three quota winners returning to Mexico at this match with the hopes of another medal and quota. On this year's team, eight of the 21 individual medal winners at the 2014 CAT will compete in Guadalajara. CAT is the second of 11 possible competitions in which Olympic quotas are available to US athletes, but the final chance in 2018 with one quota available in each individual event, except for Men's and Women's Trap in which two quotas are available in each. Earning an Olympic quota in competition ensures the country a spot in that particular event, not necessarily the athlete. Athletes will earn Olympic Team slots via a trials system established by USA Shooting.
At the International Shooting Sport Federation (ISSF) World Championship in Changwon, South Korea last month, the USA Shooting Team earned four Olympic quotas: One in Men's Skeet, one in Men's Three-Position Rifle and two in Women's Skeet (two is the most quotas a country can earn in an event). Even though the Women's Skeet team no longer needs quotas, the women who swept the podium in Changwon will lead the way for the USA Shooting Team, including World Champion Caitlin Connor (Winnfield, Louisiana) silver medalist and six-time Olympic medalist Kim Rhode (El Monte, California) and bronze medalist Amber English (Colorado Springs, Colorado/U.S. Army Marksmanship Unit). English won gold at the 2014 CAT.
Women's Trap athlete Ashley Carroll (Solvang, California) won gold at the 2014 CAT and hopes to repeat that spot on the podium, as well as garner the U.S. it's first Women's Trap quota for 2020. She will be joined by Kayle Browning (Wooster, Arkansas) and National Champion Aeriel Skinner (Jackson, California). Browning and Carroll were just two targets out of a potential Finals berth at the World Championship, so look for all three women to do well. Carroll and Skinner will also compete in the newly-minted Olympic event of Trap Mixed Team with Grayson Davey (Anchorage, Alaska) and 2008 Olympic gold medalist Glenn Eller (Katy, Texas/USAMU), who will also compete in the individual Men's Trap event. Eller finished Qualification with the highest score of 123/125 at the World Championship where he finished in sixth place.
Also competing in Men's Trap will be Jake Wallace (Castaic, California) who equaled the Qualification World Record of 125/125 targets at the 2014 CAT Games where he won silver. If any Men's Trap athlete wins an Olympic quota, it will be the first time a Men's Trap athlete competed in the Olympics since 2008.
In Pistol, 2014 CAT silver medalist Keith Sanderson (Colorado Springs, Colorado) and bronze medalist Alex Chichkov (Temple Terrace, Florida) will compete, hoping to win the first Pistol Olympic quota for the 2020 Olympics.
Also look for strong performances from Junior athletes competing in the Open division in Mexico, including Junior World Championship silver medalist Katelyn Abeln (Douglasville, Georgia) and Junior National Champion Jack Leverett III (Bainbridge, Georgia).
Abeln will compete in Women's Sport Pistol, in which she won silver in Changwon and was the top finisher in the Fall Selection match. Leverett will compete in Men's Air and Rapid Fire Pistol. Leverett – though just 18-years-old – won silver in the Open division in Men's Air Pistol and bronze in Men's Rapid Fire Pistol at the National Championships this summer. He was also just one point out of a Finals berth in Junior Men's Air Pistol in Changwon.
Travel for the Pistol team is covered in part by a generous grant from Shikar Safari Club International Foundation. More information about this grant is listed below.
On the Rifle side, Mindy Miles (Weatherford, Texas) put up a world-class score in the Air Rifle Mixed Team event in Changwon. She will shoot the team event as well as the individual Women's Air Rifle event. 2014 CAT bronze medalist in Women's Air Rifle Sarah Beard (Danville, Indiana) will look to build on that finish in the Air, Three-Position Rifle and Air Rifle Mixed Team events. 2016 Olympian Lucas Kozeniesky(Fairfax, Virginia) will also compete in the Men's Air Rifle, Men's Three-Position Rifle and Air Rifle Mixed Team events.
CAT is also the only opportunity for athletes to earn quotas for the Pan American Games next summer in Lima, Peru. Two Olympic quotas will be available in each individual event at the Pan American Games and is the last chance for athletes to earn quotas prior to the 2020 Olympic Games in Tokyo, Japan.
About CAT: The Shooting Confederation of the Americas (Confederaciòn Americana de Tiro – CAT) was founded and recognized by the ISSF in 1973 as the Continental Confederation for the Shooting Sport for all countries of the North and South America.
Shikar Safari Club International Foundation: USA Shooting received a generous grant of $50,000 to support the Pistol program from the Shikar Safari Club International Foundation. The grant will be used to prepare our athletes for 2020 Olympics through training camps and domestic/international competitions. Funds were used for the World Championship in South Korea and will be used for CAT as well. Throughout the years, the Shikar Foundation has been a huge supporter of USA Shooting; providing funds that would build a Trap bunker and Skeet field. They also financially supported a project for the 25m Rapid Fire and Sport Pistol targets that were converted in 2010 at the Olympic Shooting Center. Learn more here.
About USA Shooting: USA Shooting, a 501c3 non-profit corporation, was chartered by the United States Olympic Committee as the National Governing Body for the sport of shooting in April 1995. USA Shooting's mission is to prepare American athletes to win Olympic medals, promote the shooting sports throughout the U.S. and govern the conduct of international shooting in the country. Check us out on the web at usashooting.org and on Twitter at twitter.com/USAShooting.
ELEY is a Proud Sponsor of the USA Shooting Rifle and Pistol Teams: ELEY Limited, manufacturer of the world's most consistently accurate rimfire ammunition, has been the Official Sponsor and Official Supplier of .22 rimfire ammunition of the USA Shooting rifle and pistol teams since 2000. For more information on ELEY and their products, please visit eley.co.uk.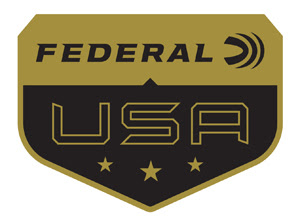 Federal Premium, headquartered in Anoka, MN, is a brand of Vista Outdoor Inc., an outdoor sports and recreation company. From humble beginnings nestled among the lakes and woods of Minnesota, Federal Premium Ammunition has evolved into one of the world's largest producers of sporting ammunition. Beginning in 1922, founding president, Charles L. Horn, paved the way for our success. Today, Federal carries on Horn's vision for quality products and service with the next generation of outdoorsmen and women. We maintain our position as experts in the science of ammunition production. Every day we manufacture products to enhance our customers' shooting experience while partnering with the conservation organizations that protect and support our outdoor heritage. We offer thousands of options in our Federal Premium and Federal® lines-it's what makes us the most complete ammunition company in the business and provides our customers with a choice no matter their pursuit.